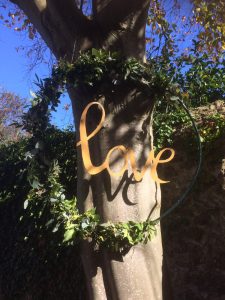 As much as a wonderful as they are, weddings can be pretty wasteful. Between travel to and from your chosen location to food waste, and even any left over favours, weddings can produce as many CO2 emissions as 5 people in an entire year! But worry not, I'm here to let you know there are ways you can reduce the carbon footprint of your wedding day and it's not as difficult as you may think.
Just bear in mind that, just as there is no such thing as the perfect wedding, there is also no such thing as a totally eco-friendly wedding. The idea of having a completely green wedding can come with a lot of pressure, but cut yourself some slack. The fact you are being mindful of your carbon footprint means you are more eco-conscious than most. The ideas on this list aren't possible for every one, just choose the ones that mean the most to you and start there!
Choose your location wisely
It's no secret that vehicle emissions are one of the top contributors to environmental damage so it's a good idea to think about how you and your guests will be travelling to your wedding venue. I'm all for getting married wherever you like but if you are torn between two destinations choosing one with fewer or shorter journeys will obviously have less of an impact on the environment.
Having an eco-friendly wedding will also largely depend on the practices of your venue, are they putting their carbon emissions high up on their agenda or are they only just getting to grips on their recycling. Do they source their produce for the meal locally? These are the things to consider when choosing a greener wedding venue.
Food and Drink
The next BIG eco-topic is food and drink. Take your time and research the options available to you, along with any policies and practices your chosen caterer has to be more environmentally conscious. Some suppliers; for example, participate in a carbon offset scheme whilst others only use local, sustainable and ethically, sourced produce.
Once you've chosen your caterer, work with them to create a menu that's as eco-friendly as possible. Think about seasonal, organic products and if you can, opt for those that are locally sourced. Whilst you are thinking about food and drink, you might want to also consider cutting single use plastics by, for example, making sure that there are no plastic cups and your bar serves glass bottles.
Décor, Stationery and Flowers
On the subject of single-use there are more and more companies are now offering items to hire, and biodegradable items too.
To keep your wedding as eco-friendly as possible ask yourself with each item and purchase whether you really need it and cut down in areas that seem extravagant. For example you could limit the amount of stationery that you order and combine it with paperless options or alternatively talk to your stationery designer about using recycled papers and eco-friendly ink.

When it comes to all things flowers, working with seasonal choices that haven't been forced or grown out of season is the obvious choice to make. Also avoid flowers that have been airfreighted half way around the world, especially when there are now so many independent flower farmers who are producing gorgeous blooms. Look beyond the flowers and consider what goes into the floral arrangements. Oasis, the floral foam that some florists use as a base to structure arrangements and hold flowers in place, is incredibly damaging to the environment.  You can check out the #foamfree on Instagram for inspiration and find eco-friendly florists who are conscious about their carbon footprint. Some florists also use faux flowers which look just as good but you can hire them instead of buying them – especially good for centrepieces!
Lastly, let your wedding leftovers do some good and try to avoid too much being thrown away at the end of the evening. Re-gift your flowers to family and friends, or donate any flowers to a local care home and spread some cheer.
If you've got any leftover cake, make sure it's available for guests to take with them as they leave.
Fashion
There are a few different ways to be more ethical when choosing the fashion for your wedding day.  You could buy a vintage, second hand dress or even rent your gown like Carrie Johnson. Consider wearing ethical jewellery and ensuring your engagement ring has been ethically sourced too.
For the groom, there are some ethical choices with Moss Bros, who have created a whole range of eco-suit options. Suits can be crafted from earth-friendly fabrics like responsibly sourced cotton.
 Give your beauty and make up routine a makeover
If you haven't already, try adding some cruelty free, zero waste or locally produced items to your pre-wedding beauty routine. You can also ask your bridal hairstylist and make-up artist to use cruelty-free substitutes on the day.
The Gift List
Think carefully about your gift list as it's another way to easily overindulge when you don't really need to. You can build a sustainable brand gift list or look into asking for donations to a bigger purchase for example.
Your wedding day is above all about your future and you absolutely should have the day of your dreams. Hopefully by being mindful of the above you will show a little love to the future of the planet at the same time.
If you would like more ideas on how to make more sustainable choices, comment below or contact me, I'll be happy to help!