Sustainable flowers are defined by the amount of damage they cause to the planet. Many flowers you can buy today are unsustainable for a number of reasons, whether it's being flown in during off-season or stems being wasted.
If you are planning a sustainable wedding, having flowers that are kinder to the planet are more accessible than you may think. Sustainable flowers are usually those that are grown locally and are grown or picked to order or cause less lasting damage to the environment.
These 7 tips will help you choose more environmentally friendly flowers:
Find local suppliers
Shopping locally is always better for the planet. Finding a local florist who sources their florals from growers nearby reduces the number of miles the flowers racks up on the road or in the air. Ask your florist where the flowers you want will come from and whether they can suggest alternative blooms so you can keep them as close to home as possible.
Choose seasonal blooms
Wedding planning in modern times means you can pretty much get any flower you want, even if it's not the normal time for them to be in bloom. If you want to keep your wedding flowers eco-friendly, we suggest choosing flowers and foliage that naturally come into season around the time you are getting married.
Choose plants in place of flowers
Switch things up when it comes to your wedding arrangements and tablescapes by using plants rather than cut flowers. Green and flowering plants often last much longer than cut flowers so you'll be able to enjoy them for much longer. Plus if you keep their roots intact you'll be able to replant them afterwards and enjoy memories of your wedding long after the day as a keepsake in your own home or garden or as a thank you gift for guests.
Keep things foam free
Floral foam is really bad for the environment. It contains the same amount of plastic as ten shopping bags and breaks down into small micro plastics that become toxic to animals and sea life. So what can you use instead for your table arrangements and centerpieces?  We suggest using florals that look great in vases, which will keep your wedding day foam free. Some florists may hire vases but you can also keep an eye out for suitable vases in local charity stores or even stat collecting empty jars to display your flowers in.
Choose recycled ribbon
In the grand scheme of your wedding, what your bouquets and buttonholes are wrapped in may seem like a small detail but it's one that you can easily turn green.  You can choose to have your flowers wrapped in any off cuts of fabric, biodegradable jute or simply ask your florist whether they have any spare or leftover ribbon from other jobs you are able to use.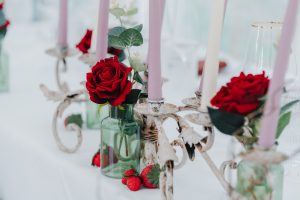 Keep it small
Smaller bouquets and arrangements need fewer cut flowers, which means a smaller impact on the environment. Posies, corsages and single stems are great style options if you are looking to keep the flowers you use down to a minimum.
Consider artificial or dried flowers
You'll often hear of couples drying out their fresh flowers or having them pressed after the wedding, but over the past few years using dried or artificial flowers on the day in place of freshly cut blooms has become more popular. For the eco-conscious they're a sustainable flower option because they can, potentially last for years given the right conditions rather than weeks.
After the wedding, reuse these flowers as extra decorations around your home or regift to members of the wedding party.
Keeping it Green After The Wedding
These seven ideas focus on how you can have more eco-friendly wedding flowers on your special day. But your earth-conscious decisions don't have to stop once your wedding day is over.
Rather than throwing your flowers away, keep reducing your carbon footprint by:
Seeing whether the vnue or your florist can reuse your flowers in another arrangement or at another event
Donating your flowers to a hospital, care home or local business
Drying them out and using them as gifts