If you're reading this, it's likely that preparations are well underway for organising your wedding day. You may have already found your venue, organised your wedding flowers and decided on a colour scheme, but how about the suit?
One of the most important decisions you'll make is what to wear! Here is our ultimate guide to choosing the perfect wedding suits for your big day. We'll help you figure out everything from style to colour to fit. So, whether you're the groom, the bride or a groomsman, read on for all the info you need.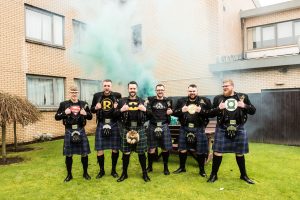 The different types of suits that are available
The key to a pulling off a killer suit is fit. This means that it's important to wear a suit that compliments your body shape. In a room full of suited gents, we feel it important that it's not just the bride who stands out!
There are three main types of fit:
Regular – For those who prefer a classic style in a comfortable fit with room for extra movement. It's also ideal for people with a larger build than average.
Slim – Ideal for those with a slimmer physique and typically for people who are used to this fit of clothes in everyday wear as it can feel a little snug.
Tailored – A more streamlined look and a midway option which allows more movement than a regular fit.
You will also need to work out if you want to hire or buy your suits and, if you have others in your party who will need a suit for your big day, who is footing the bill. As awkward it may feel, having these types of conversations with your partner & wedding party at the very beginning of the planning stages will help save any confusion & unnecessary stress further down the line.
Consider if you are going to buy off-the-peg or hire from a formal wear specialist? Either way, it's wise to get your measurements done. It will save time and money on alterations, and you'll definitely want a well-fitted suit for the big day.
If hiring, try to book your first appointment at least six months in advance of your wedding. When choosing a formal wear specialist consider whether all their suits are available in-house or if they're using a third-party supplier, and whether they can do alterations on-site.
How to choose the right colour and style for your wedding day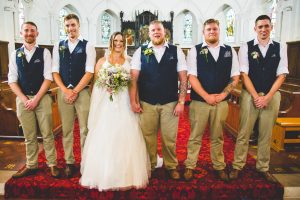 Your wedding day suits should match the type of wedding you're having; for example, a rustic tweed suit will be better suited to an outdoor or barn wedding, while a tuxedo is ideal for a ceremony at a stately home or hotel. Similarly, the colour of your suit should work with your chosen colour scheme rather than contrasting or clashing with it. The suit you choose should complement your flowers, decorations and the outfits worn by the bridesmaids and groomsmen.
When going shopping for your suits we recommend taking a few swatches of your bridesmaids & flower colours. If you want to go even more prepared sit and create a Pinterest board full of suit inspiration. This will really help you stay on track with what you are looking for as it can be a little overwhelming once you are standing in front of 6 different types and colours of suits.
Which materials and fabrics you should look for
The theme of your day and the time of year should be taken into consideration when it comes to choosing the fabric of your suits. A tweed suit won't be comfortable to wear in the height of summer.  Just as a linen suit will be out of place for a winter wedding at a castle.
We often associate heavier materials with a more expensive suit. Wool or wool-blended suits are great quality and maintain their shape over long periods of time. For weddings in the summer months, a linen suit keeps you cool and is highly breathable.
However, If you're on a bit of a budget, cotton and polyester suits are both breathable to wear and adhere to a smart look. Many high street stores have a wide range of suit styles and fabrics available, but if you have a big grooms party, you may wish to consider hiring out your suits as this will be more cost effective. There are plenty of colour and fabric options out there though, so take your time to work out exactly what you want and what will work with the theme of the day.
How to get the perfect fit
Where possible be sure to get fitted by a professional so that your suit looks tailored and polished. Wedding suits have typically a lot less movement than your everyday clothes, so if you're not used to wearing them, they can feel a bit snug. But don't worry, that's normal! Just make sure the suit is comfortable enough to wear all day long.
When checking the fit of your suit, there are a few things to keep in mind:
The jacket should fit snugly on the shoulders with just enough room to button without pulling.
The sleeve length should be just long enough to show about half an inch of the shirt cuff.
The suit trousers should sit at your natural waist and fall straight down to the ground, with a small break at the front.
If you're wearing a waistcoat, make sure it fits snugly around your chest and doesn't gap at the buttons.
Accessories that will complete your look
There is a lot more than just a wedding suit that will make the grooms appear extra sharp on their once-in-a-lifetime day. Just as they would look attractive in a perfect wedding suit, they would also need to complement their appearance with the right accessories.
While accessories will not make or break the overall look of the groom, adding suitable accessories on wedding suits allows the groom-to-be to personalise their appearance and style.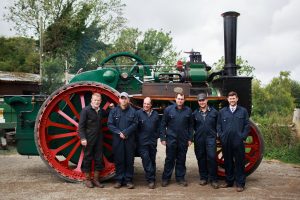 One of the most important accessories to think about is shoe choice. Just like choosing your actual suit, your shoe choice will also need to complement the overall aesthetics of your wedding.
The next accessory on the list is the pocket square. There are lots of fabrics to choose from and you can really have some fun here BUT always remember that the colour of your pocket square needs to compliment or even match the colours of the bridesmaid dresses and/or flowers.
Another accessory to think about are cufflinks. These are a small yet powerful accessory that can complete the overall wedding look. For the wedding day, grooms should opt for the decorative cufflinks, such as those coloured gold or silver, which complement their suits well.
If you are feeling a little lost in the accessories department Pinterest will be able to give you lots of ideas. Also, if you are getting your suit from a store, ask their advice as they will have fit 100's of grooms and have a vast knowledge of which accessories go best with which suit.
Let us know how you get on!