You've picked a venue, set the date and decided on your wedding theme – now it's time to talk wedding stationery. Your wedding stationery is the first chance you get to show your guests what type of wedding you're planning, so read on for 5 creative wedding invitation ideas for 2023.
Choosing wedding invitations can be tricky – there's a lot to consider – from paper, design, format, fonts – the list goes on. Before you begin to plan your stationery and choose the perfect invitations, you should already have an idea on your overall wedding theme, budget and guest list size. Do you want a traditional, modern or destination wedding invitation? Do you have a particular colour scheme in mind?
These are the factors to think about before you start your search. Of course, a wedding stationer can help you with all of your design decisions, however they'll need to know those things before they can get started with creating your designs.
On Trend Tips for 2023
1. Monograms
Monograms are a classy and elegant way to personalise your wedding stationery and it's pretty timeless. It fits perfectly into the regency trend that inspired so many weddings last year from the Bridgerton fever that was huge on the wedding scene, this romantic trend is here to stay.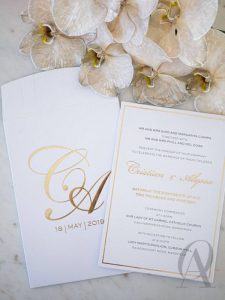 A monogram typically consists of the couples' initials or the first letter of their last name, arranged in a decorative and stylish way. Adding a monogram to your invitations, save-the-dates, or thank-you cards, adds a cohesive look throughout your wedding and it's pretty versatile too. You can emboss, print or incorporate a monogram into a wax seal. Plus, they can be customised to match your wedding colour scheme and font style easily.
Whether you prefer a classic or modern look, incorporating monograms within your wedding stationery adds a sophisticated touch that will ensure your wedding is bang, on trend.
2. Romantic Florals and Foliage
Last year the wedding scene saw a huge rise in the popularity of greenery; from indoor décor and bouquets to wedding stationery – and it's no wonder – weddings filled with lush greenery look so good!
In 2023, the stationery trend we're seeing a lot more of is romantic foliage, as we take last year's trend and make it even better. Look out for hand-drawn leaves and vines, gold trims and elegant swirled fonts. Blush pinks always give a feeling of a fairy-tale wedding and will never be out of fashion and pairs well with this style. You can incorporate this theme in various different styles, from modern romantic to classic elegance it's versatile and sophisticated.
3. Hand Drawn Illustrations
Make your wedding invitations even more personal to you with a stylish illustrated design – it's the perfect way to ensure your wedding stationery is completely unique. Hand drawn images are set to be wildly popular throughout 2023 and we can see why – they are so pretty and make a beautiful keepsake.
Wedding venues look even more beautiful when drawn, painted or printed in foil, and this is the perfect opportunity to showcase your venue and give guests a taste of what's to come. Illustrated invitations don't just have to be centred around your wedding location. You could choose a symbol that's significant to you, include an illustration of your family or maybe even your dog – if you're planning on them being a part of your wedding. Having something that's special to you both is just as personal as having an illustration of your venue.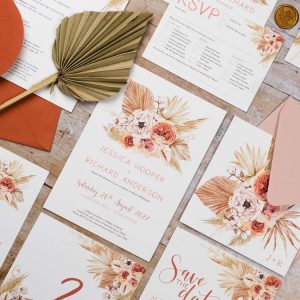 4. Contrasting Colours
Navy and pink paired with gold are set to be popular colour palettes for 2023 but similarly there's a rise in mixing and matching wedding colours. This trend particularly suits couples who want to make a statement on their wedding day.
There are lots of ways you can incorporate this trend, from florals in bold colours or using colour in fun ways related to your wedding day style.
Think navy combined with pinks, floral combinations with bright greens and bold flowers or lush grey combined with golds and blacks. You can go bold with blues, oranges, yellows and reds, or combine red and orange with sage green to add an autumnal vibe to your wedding without being overpowering.
This trend is all about ripping up the rule book and being playful! There are so many colour combinations that work well together – get creative and take a look at Pinterest for some inspiration and to see how good this style can look.
The best thing about this trend? You can pretty much guarantee it'll be unique!
Embellishments
"Beautifully embellished invitations have become a lot more popular over the last few months and seems to be a trend running through the next 12 months. Pairing pearls and diamantes with beautiful patterned paper and luxurious coloured ribbons is making each design unique with endless possibilities." says Vicky, Stationer at Bluesky's Creation, East Yorkshire.
There is so much you can do and still be on trend with your stationery style. From tiny ribbons to oversized bows ( a 2022 trend we are still seeing a lot of – especially on the wedding catwalk) pearls, lace, sparkles and more. Whatever your colour scheme or theme there'll be an easy way you can include embellishments into your wedding day stationery.
What are your favourite wedding stationery trends for 2023?
Whether you're planning a romantic wedding day or bold and colourful celebration we'd love to know! Whatever you choose for your wedding invitations, remember to keep one as a keepsake for your wedding album – it'll be a treasured memory that you can both look back on in years to come.