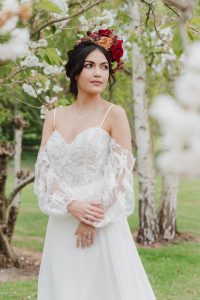 Whether you have been dreaming of your wedding dress since you were little and know exactly what you want, or you've never even thought about it – I've got you covered!
Finding a wedding dress can be a stressful part of the process, after all you've probably never tried one on before! There's also lots of jargon to decode – tulle, a-line, organza, sheath, not to mention deciding on whether you'd like a veil, or whether to go bra-free. It's easy to see why some brides can feel overwhelmed when it comes to thinking about their wedding dress.
No matter your style or budget these tips should help you when it comes to choosing your wedding dress.
Do your research
Explore Pinterest, look through wedding magazines, look on Instagram, check out celebrity weddings to start to get an idea of what kind of look you like. Look for any recurring themes that start to come up in the dresses you like, do they all have long trains? Perhaps they have illusion necklines, or you are leaning towards lace. This will help you start to have ideas of what you are drawn to by your first appointment.
Research local bridal shops since you'll be wasting your time if you book appointments at boutiques that don't stock the dresses you like or if they don't match your budget. Word of mouth referrals are great but checking out reviews online will give you a good idea of the shops that have amazing customer service and a solid reputation.
Be open to new ideas
Trust that your assistant on the day knows what they are talking about. Yes, you may have a few ideas of what you would like to try on but be open to trying something you may not have considered. Bridal consultants will often tell you that brides have fallen in love with a dress they wouldn't have ever thought of trying on.  Keep an open mind when trying on your dress – you may just fall in love with something you'd never considered before.
Ignore the sizing
Brace yourself for the confusing world of bridal sizing and learn to ignore it! Bridal designers will often work off their own sizing charts and it's more common than you may think to have to size up. Just ignore it, it's just a number and you don't need to share it with anyone!
Shop Early
Most bridal shops will have a lead-time on their gowns of between 4 and 9 months! This is the time it takes for your dress to arrive after you have chosen and ordered it. Once it arrives you'll also want to factor in some time for alterations. It also helps to try dresses on around the same time of year as your wedding will be.
Set a Budget
Have a clear idea of your budget before you go shopping and remember to add on a couple of hundred pounds in the reserve for any alterations. Yes it can be a difficult subject to talk about numbers but before you go shopping it's best to know who is paying for your dress and how much you have to spend. If you are going to want to accessorise your gown with a veil remember to ring fence some budget for that. Keep a bit of money aside for cleaning your gown after the wedding.
Make appointments
In most bridal stores, you'll need an appointment. They may have restrictions on the amount of people you can bring so it's best to check.  If you are planning on hitting a few shops on the same day it's also an idea to find out how long your appointment is likely to be.
You'll usually be paired with a consultant who'll listen to what you like and don't like, will make suggestions and will help you get in and out of the dresses.
Be selective with who you bring
Yes you love your mum, mother in law, five bridesmaids, sister, sister in law, best friend and your two flower girls however managing all of those opinions can become extremely overwhelming.  Plus trying to organise a time and date where everyone will be available is likely to be a nightmare. Narrow your group down to the three or four people who mean the most to you and save the rest for when you've chosen your dress and are having a fitting.
Bring the right underwear
It's an idea to pack a strapless bra and to wear nude underwear on the day. That way your bright red bra straps won't distract you. Think about smoothing underwear like Spanx, which will give you a nice silhouette under more fitted gowns.
Hit sample sales
There are usually discounts of up to 50% to be made in sample sales. This is where bridal shops sell of their old inventory usually at heavily discounted prices. Bear in mind that most stores will be getting rid of the gowns in sample sizes, which are usually around a size 12.  Larger wedding exhibitions/shows are also a great place to pick up a bargain!
Relax and enjoy the moment
Enjoy your appointments! Revel in being the centre of attention and allow yourself to enjoy playing dress up. Once you've found the right dress and you know deep down it's the right one then your hunt to find 'the one' has finished. Your dress is great – just relax and look forward to wearing it on your wedding day.
Image: Jeff Oliver Photography
Dress: Victoria Grace Bridal
Venue: Swarling Manor