There are so many important things to consider as you plan your wedding and potentially one of the most important decisions is choosing where to get married or hold your wedding celebrations.
Whilst pretty much every other aspect of a wedding is optional from first dance, cutting the cake or how big your bridal party will be, a venue is the one thing you can't skip. After all, you've got to have somewhere to get married and for your friends and family to celebrate!
So how do you go about choosing the venue for your wedding? What are the key things to consider and how do you know if you're on the right track or not?
Whilst some of you might already know exactly where you want your wedding to be, the majority of couples have no idea. This post is about helping you narrow down the choices available; whether you are looking for a cosy barn, a beautiful beach or manor house read on to find my top tips for picking your perfect wedding venue.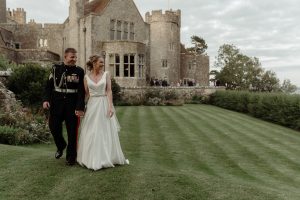 Choose a Venue that Fits Your Theme
It may seem obvious, but if you want a particular look for your nuptials you'll want to look at venues that fit with that.
If you are planning a modern wedding, you could seek out industrial spaces, nice restaurants or modern town halls. Or, if you are having something more traditional, venues with plenty of outdoor spaces, stately rooms and sweeping staircases may be more your vibe. Choosing a venue that ultimately sets your theme will bring together all the other aspects of your day.
Know Your Budget
It's worth noting that your budget for your venue won't just be hiring the space itself, but you may have other things to consider and budget for too. From catering to linen hire; and then the cost of decorating your venue can all add up. Know how much your budget is along with how much it's likely to cost to decorate your space, if the cost of those added up completely goes over budget you may need to think about hiring a different space or scaling back on your décor.
You should break down your overall budget early on in your wedding planning and ensure that everything is affordable. Blowing your budget early on your venue can make for a bit of an uphill battle keeping everything else in check for your wedding.
That's not to say you can't plan to go big on your venue! But having a rough budget allocated to each item you'd like to have will ensure everything and everybody gets paid and that you don't have any expensive surprises along the way!
If you're unsure of where to begin in putting together a wedding budget or how much you should allocate to which area get in touch, I can help you work it all out. I can also give an insight into venues you may not have thought of, and know some clever ways to bring down costs too.
Guest List
Knowing your guest list and how many people you can expect to be at your wedding will save you a lot of wasted trips and potential heartache down the line too. Couples can sometimes underestimate their wedding numbers, so it's a good idea to settle on a guest list before you search for venues so that you hire an appropriate size. Similarly knowing how many children will be attending (if you're inviting them) and how child friendly your venue can be may impact on your final choice.
What are your Absolute Must-Haves?
When making your shortlist for your wedding venue, consider what is included in your overall venue hire. This will be especially helpful if you find yourself struggling to choose between two or more wedding venues. You may also have minimum spends to factor in when it comes to their in-house catering or bar hire so watch out for costs such as these that can add up quickly.
If you are having a late wedding or one with guests who will need to travel, will accommodation be a must-have for you? If so, ensure your venue either has on-site accommodation or is close enough by to a selection of hotels.
Do you have anything that you'd like your venue to be able to accommodate such as a large dance floor, space for entertainment or lawn games or a space to get ready at the venue prior to your wedding? Make a list with your partner of the absolute must haves your venue needs to have and anything that you'd like for the venue to have but isn't a deal breaker.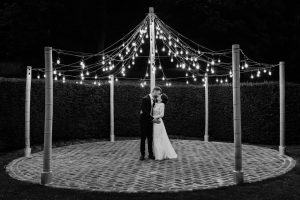 Just remember though, with the pressures of social media, it's very easy to become obsessed with a version of a wedding you've seen online. It's much more important to have a wedding that represents you both as a couple and to choose a theme and space that allows your vision. Lots of venues will look beautiful when they are dressed to perfection but what's most important is that you find a venue that you both love and is the perfect backdrop to yours!