Your wedding day is one of the most important days of your life – and usually is one of the most expensive too!
Couples often spend months and sometimes years, planning making sure every last detail of their special day is perfect.   And all of this comes at a price – weddings in the UK now have an eye-watering average price tag of almost £21,000. With the cost of living soaring, spending huge sums of money on their wedding day is out of reach for many people.
Many brides and grooms are now looking to save money and cut costs but still make sure that their wedding day is perfect in every single way. Keep reading on for some tips on how you can save on some of the elements for your wedding day but still have the day of your dreams…
Don't be shy, DIY
Many of the stationery elements of your wedding can be made yourselves, especially if you have a creative eye. Wedding stationery usually includes order of the day, invitations, menus, place cards and seating plans. This can total up to the region of between £600-£800, so there's lots to save by tackling this job yourself!
Do your research and shop around. The cost of inks, paper and printing costs can quickly get out of hand and if you make a mistake when making something, you may end up having to buy all of the items again to start over.
There are lots of digital designs available for you to purchase online and print at home which will avoid many of the mistakes; and are a great way to get personalised and professionally designed stationery on a budget.
Get Thrifty
There are so many websites and marketplaces dedicated couples looking to purchase second hand reception decorations and other elements for their wedding day. From flowers to outfits, not only can you save thousands on buying everything new it's also much more environmentally friendly too!
You could even resell everything after your wedding day to make some money back. Sites like Facebook Marketplace, Freecycle and Vinted are all worth checking out.
If you are treating yourself to brand new reception décor it's worth thinking about what you're going to do with them after the wedding day…even if you do sell them you are most likely only going to recoup around half of what you spent in the first place. It's worth checking the cost to hire decorations from local companies and working out which is cheaper.
Cut the Cake
Wedding cakes from luxury bakers can cost up to £1000.  That's one reason why many couples are choosing to ditch traditional wedding cakes and opt for cupcakes, brownies or donuts instead.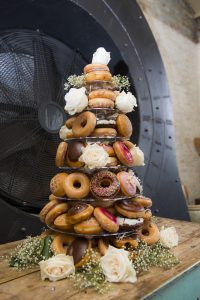 If you are set on a traditional wedding cake there's ways to have one on a budget too. One of the easiest ways you can save money on your wedding cake is by finding a great bakery and being honest about your expectations and cost.  Try out several different bakeries and cake makers to discover the one that suits your budget and style the most.
Another way to save on your wedding cake and still have a professionally made one is by buying smaller. This is easy if you're having an intimate wedding with a smaller number of guests, but may be a problem if you're having a lot of guests. A great way to solve this is to have a small wedding cake on display and to be used for photographs and the cutting and then by asking your cake maker to make inexpensive tray bakes that can be kept in the kitchen and used for serving. Your guests will never know!
Next, the complexity of your wedding cake will send the price of it skyrocketing. Time-consuming and intricate tasks for your chosen cake designer such as hand painting, edible gold, sugar flowers will increase costs. Keeping your wedding cake simple but elegant will help you to keep the cost of your cake down. Simple cakes tend to be timeless and still look elegant. Consider having a modern, clean-lined cake with different layers or a trendy naked cake. Both of these styles look the part but won't stretch your budget too far.
Ditch the Free Booze
Having an open bar can set you back more than £2000 and although it's a nice gesture if you can afford to have one, research suggests that guests are usually more than happy to buy their own drinks – especially in the evening.
If you'd still like to offer some sort of free alcohol available on your wedding day you could offer wine on your tables with your meal or set up a prosecco station or a make your own cocktails area. It's also worth checking with your venue whether there's a corkage charge and adding it into your wedding budget too.
Get rid of the Wedding Favours
Wedding favours are small gifts given out to wedding guests a thank you for attending the wedding but they are fast becoming an outdated tradition and some believe, an unnecessary expense. Couples usually spend between £1-£3 on each wedding favour and so it can quickly add up.
If you are going to give wedding favours for your wedding you could DIY them or look for cost friendly gifts such as seed packets, individually wrapped chocolates, miniature candles or lottery scratch cards. You could package the lottery tickets or cards up nicely, in pretty envelopes with the guests name which could also double up as place cards. You could also provide your guests with a lucky penny to scratch!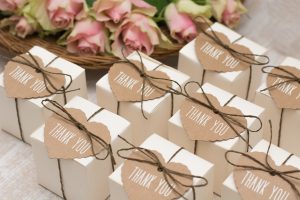 Wedding favours are an item that couples seem to be on the fence about and it's totally up to you as to whether you wish to include them or to use the budget on another element of the day that would be more fitting to you as a couple and still express your gratitude.
But don't be afraid to ditch this tradition altogether if you want to keep your costs down – your guests won't notice.
If you're struggling with your budget, feel free to get in touch and see how I can help you get those costs down.