After three emotional postponements, real wedding couple Amy and Chris finally managed to say their "I do's" on 20th August 2021 at the beautiful Lympne Castle, Kent. With groom Chris in his military uniform, sky blue dresses for the bridesmaids and a stunning A-line gown by designer Ellis Bridal (with pockets!); we asked bride Amy to tell us more about their day…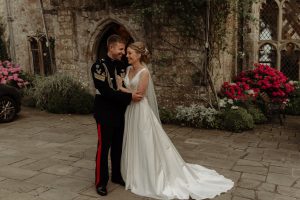 Their Story
This couple were clearly meant to be from the offset, and very patient too! Amy and Chris met on a night out; Chris at the time was in the RAF and based in Cyprus, and the day after they met he flew back to Cyprus for 3 months. They had to wait 3 months for their first date and then 3 months later Chris was deployed to Sudan for 6 months. Being apart certainly didn't dampen the romance though:
"After 4 years together Chris gave me a Christmas card inviting me to a day out on the 28th Dec. We arrived at a hotel and as we walked towards the entrance Chris gave me another card- "To My Fiancee". As I turned around he was on one knee and the rest is history!"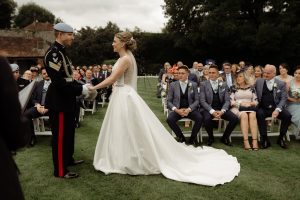 "As I turned around he was on one knee and the rest is history!"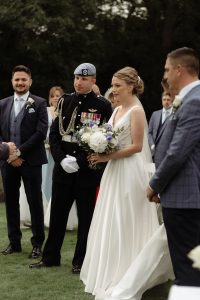 The Venue
Choosing the unique Lympne Castle as their venue, a 12th Century Grade I listed building near Hythe, Kent. It provided a stunning venue for their wedding with it's impressive history, medieval windows and breathtaking views across the marshes and English Channel. The whole venue tied in perfectly with their military themed day.
"We had looked at a few venues and Chris had shown very little interest in them. However, one cold, wintry morning in January we approached Lympne Castle and being the first viewing of the day, the curtains were still closed. As the curtains were opened we were stunned by the beautiful views across the marshes and out to sea. Chris started to take photos and we just knew there and then it was the one!"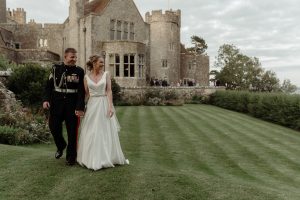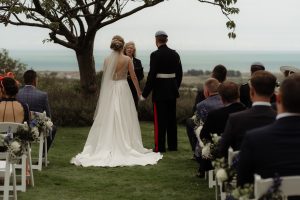 "We also had the RAF and Army flags flying at the front of the castle."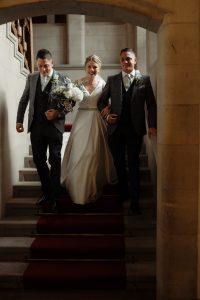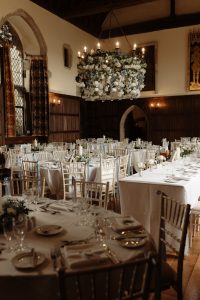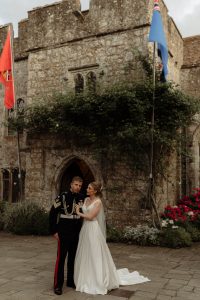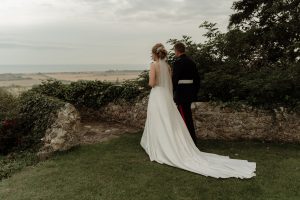 The Style
Honouring Chris' military career, the men's styling was impressive with formal military dress and medals:
"Chris is in the Army now so the groom's party who are military based wore their uniforms and medals, and we had miniature uniforms made for our nephews who were page boys. Our oldest page boy wore Chris's miniature medals too."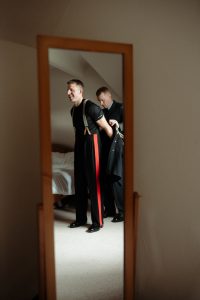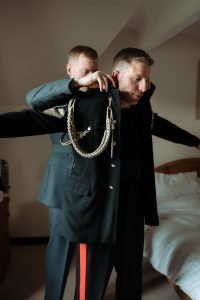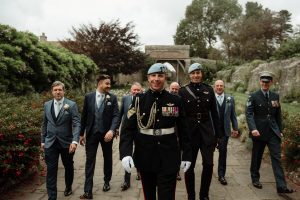 With the bride's favourite colour being sky blue, it was an obvious choice for the gorgeous bridesmaid dresses and the flower girls looked beautiful in their ivory dresses to match with Amy.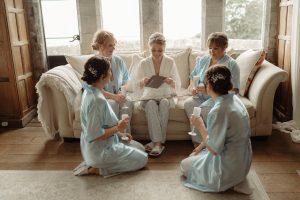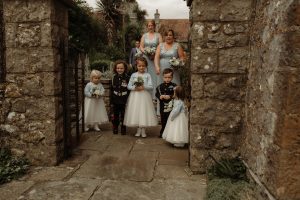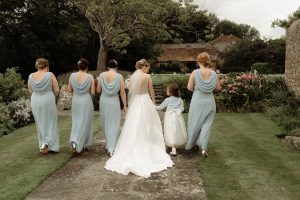 "I chose my dress with the help of my Mum and Maid of Honour, Jaime. Mum was desperate for me to try a 'princess' dress on and so to keep her happy I did and fell completely in love with it. My shoes were sky blue from Charlotte Mills- I knew I wanted to have blue shoes and when I found a pair with the same name as my Grandad- I knew I had to have them. Grandad sadly passed away some years ago but would have been the one to walk me down the aisle so having the shoes named after him felt very special."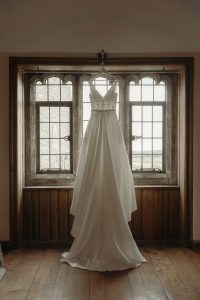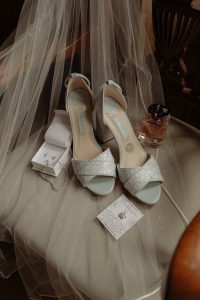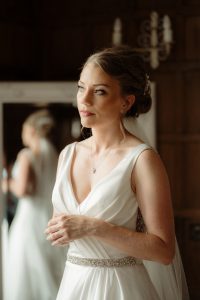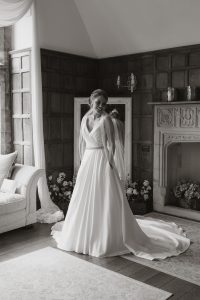 The Entertainment
"Chris and I both wanted a band at the wedding- we had contacted several for quotes and were having drinks before going to a George Ezra concert, whilst looking at the quotes. A band started to play and we both loved their style- Chris approached them for contact details. We went to the George Ezra concert, decided on our first dance whilst there 'Hold My Girl' and the very next day the band posted a video of them playing our first dance song- it was meant to be."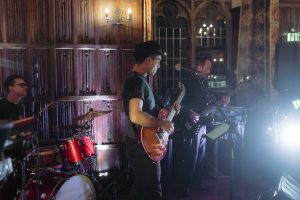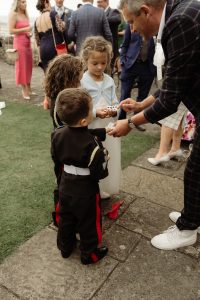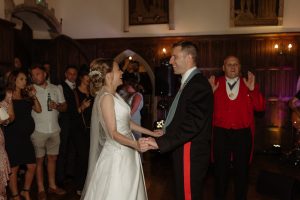 Not to let their guests get bored, Amy and Chris also wanted some entertainment throughout the day and found that with local magician Nicolas Clement, who impressed Amy and her bridal party when they met at a wedding fair in London.
"We were completely blown away with the magic, so were our Mums and bridesmaids!"
The Suppliers
Amy and Chris choose lots of local, Kent suppliers through recommendations and visiting wedding fairs. With great things to say about all of them, not surprisingly the highest praise went to their toastmaster Jim and the venue:
"Jim Cattermole, The Kent Toastmaster, Incredible! Jim worked with us all the way through the postponed dates and made the day just amazing! A really genuinely lovely guy. BUT- LYMPNE CASTLE deserve the biggest mention. From all the postponed dates we had Aimee, Sian and India were incredible throughout. They took away as much stress and worry as they possibly could. They accommodated our requests, helped us to reorganise and nothing was too much trouble."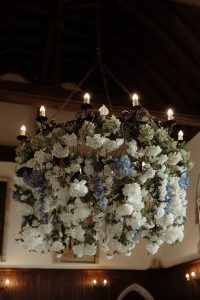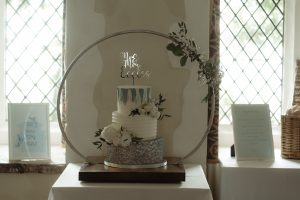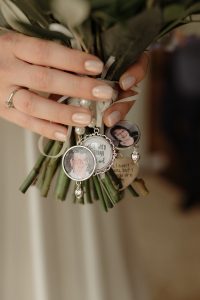 "We were so lucky to have chosen Lympne Castle for our venue and will be forever grateful for all they did for us in the difficult times but most importantly how special they made our day when we finally got there."
Favourite Part of The Day
"After the speeches, we sat for dinner and as we looked across the room at the love and emotion for us and our special day we felt simply amazing that all of our plans had come together finally, and all of those closest to us were there sharing in our joy and love. The postponements definitely made the day more emotional for everyone."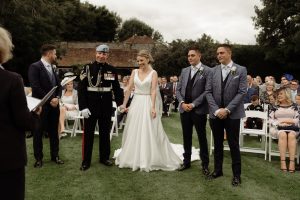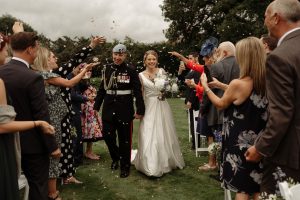 Advice
"I had read words of wisdom for couples online before the wedding- some telling you not to worry about the small things, others reminding you that it is your day and to not try and please everyone. However, for some they want to please others, they want to worry about the small things so my advice is just to do you and your partner. What you want to do, what you want your day to be and have no regrets. Your day will be amazing because it is how you choose it to be."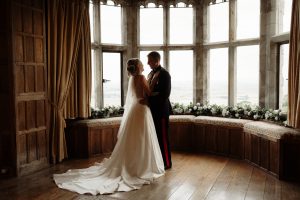 A perfect and romantic day that was well over-due, we wish this beautiful couple all the happiness for the future!
For help on choosing your venue or suppliers, take a look at our other blogs or contact us directly – we'll be happy to help!
Suppliers:
Photographer: Nina Goks Photography
Videographer: MAC videography
Hair/Make-up: Make up by Emma Jane
Wedding party outfits: Lapel Men's Hire
Dress: Victoria Elaine Bridal                                                                 
Band: Ear Candy Oxford
Cake: Bon Bon Cakes                                                                
Magician: Nicolas Clement
Florist: Mimi Fleur                                              
Venue: Lympne Castle
Toastmaster: Jim Cattermole
Chair Dressing: Bows Chair Covers
Rings: Purely Diamonds