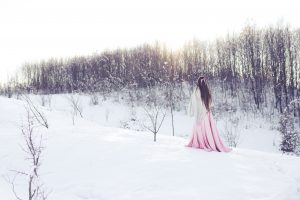 We all know spring and summer are still the most popular seasons for weddings due to supposed warmer temperatures, longer days and beautiful florals; but there still is something magical about a winter wedding. If you've opted for a winter celebration and are wondering how to make the most of your day here are the best tips to throwing a perfect winter wedding.
Check the locations available at your venue
Ask what areas are available to use on the day. Is there enough indoor space in case of bad weather? Are there any outdoor heaters? Be sure to ask questions and come up with a plan that is best for you and your guests. Try to plan an evening visit, as daylight hours in winter are limited so you might find that a large part of your day happens when the sun goes down. How cosy is your venue? What lighting is there? Ensuring that you have thought about these things will ensure everyone will have a great day.
Keep your guests warm and cosy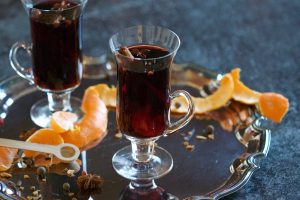 When winter comes around, we all love being bundled up in big knits and chunky scarves, not to mention those layers. Hosting a winter wedding is the perfect time to amplify the cosy feeling. Opt for a warm drink such as mulled wine, mulled cider, or even alcoholic hot chocolate, giving your guests a festive feel. Plus, it will help your guests to warm up if it's really cold and keep them in good spirits. If you decide to schedule time outside such as the ceremony, photos or drink reception, scatter baskets of blankets and chunky scarves around the grounds. Keep a few blankets aside to place on any outdoor seating too!
Embrace festive décor
 Nothing feels more winter wonderland than sparkly lights and the warm flicker of candles. Incorporate them into table decorations, your aisle, alter and outdoor spaces for an intimate winter vibe. A winter wedding is also the perfect time to choose a seasonal colour palette; whether that's whites and soft pastels or reds and greens. No matter which colours you choose, make sure you keep it flowing throughout – from your invitations to your décor elements – to create a cohesive theme. It's the small, intricate details that will bring together your winter wedding.
Change it up
To continue the theme, take traditional aspects of a wedding and customize them with a wintry twist! Surprise your guests with something they haven't experienced before; a hot chocolate or smores station, filled with small and seasonally inspired desserts. Don't be afraid to try something new and get creative with your menu, it's these details that will make your day even more memorable and your guests will feel taken care of and loved.
Get the party started
The best way to keep warm is by dancing the night away. Make sure to get your guests up and the dancefloor filled not too long after dinner – we all know that sometimes a large meal and warm lighting can lead to a little nap!
Check for any out of season discounts
It's still true that winter is the least popular season to get married, although we are seeing more and more winter weddings. As there is a lull in these months, many venues and suppliers offer discounts or special deals. Be sure to ask about any winter deals in place at venues you are considering. Savings made here can then be used on adding some special touches for your guests or spent on other aspects of the wedding.
From walking down the aisle by candlelight, or through white fluffy snow, to feeling the crisp air on your cheeks, or sipping champagne with your guests next to an open fire; a winter wedding is a truly magical experience.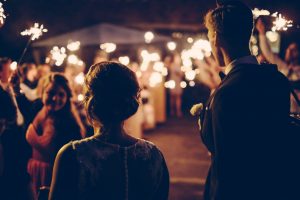 Credit:
Photo of bride in snow by Nyana Stoica
Photo of couple and sparklers by Andreas Rønningen
Photo of mulled wine by Gaby Dyson