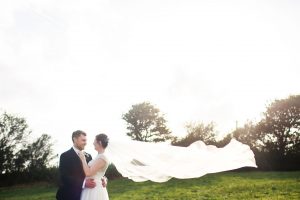 In 2019, on a very windy August day, Georgie and Jason had a traditional church wedding, with lots of country touches and not-so-traditional transport!
Georgie (a farmer's daughter) and Jason (steam traction engine mad), met online via Muddy Matches, a specialist dating site for lovers of all thing country. A few years later, and with the cutest chocolate Labrador – Hendrick – in tow, the pair decided to get married back in Georgie's home town in Kent.
Choosing the family farm as their venue was a no-brainer for the couple as it means so much to Georgie and provided the perfect back drop for their traditional country-style day. Plus, they had enough land to accommodate Jason's steam traction engine, and some of their friend's engines too!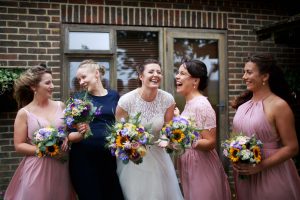 They had a traditional Church of England ceremony which took place in Georgie's picturesque family church; St Anthony's in Alkham, Kent…not far from the farm.  Georgie wore a stunning dress from Kenneth Winston's Ella Rosa Collection, which was both beautiful and comfortable, exactly what she was looking for. She paired it with a single chapel length veil and peach heels by Rachel Simpson (which were swiftly swapped for some Fairfax and Favor boots when they got back to the farm!).
"I loved my dress – the style suited my personality and requirements and still had a little bit of sparkle on it!" – Georgie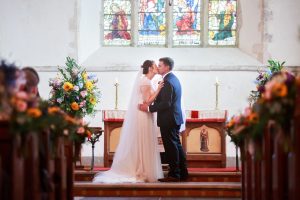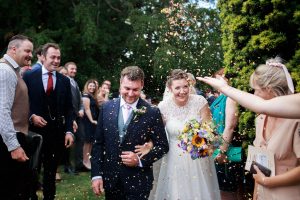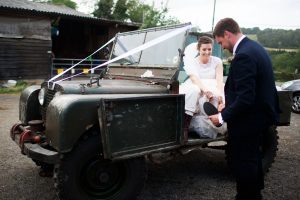 Jason, usually found in a boiler-suit, looked very much a country groom in a dark navy suit and white shirt from Marks & Spencer's, complemented by a bespoke blue Harris Tweed waistcoat from Scotland, and finished with a dusty pink tie and pocket square to match the bridesmaid's dresses. The groom and his groom's party were also treated to some customised boiler-suits, to protect their lovely outfits from any engine oil when they drove the engines from the farm to the church!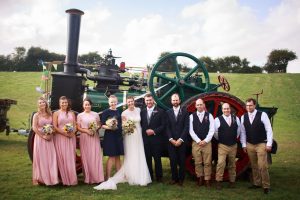 The bridesmaids wore dusty pink dresses, with the maid of honour in navy blue, and the groom's party wore cream chinos with white shirts and navy blue waistcoats; whilst the father of the bride and best man wore the same as Jason.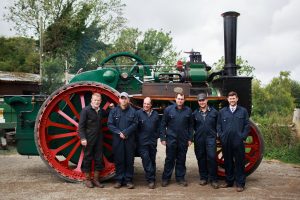 The engines are a huge part of Georgie and Jason's social life so featured heavily in their day, with Jason driving himself to the church in his engine Olive, and another was used take guests (on a trailer) from the farm to the church and back again…not your standard wedding transport!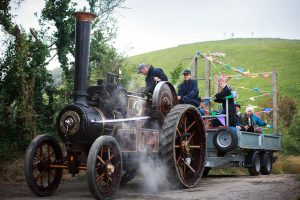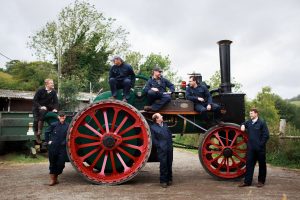 The wedding reception was held in a traditional country style marquee, decorated with rustic furniture and some beautiful floral displays from local florist Maria Smith of The Lemon Hound.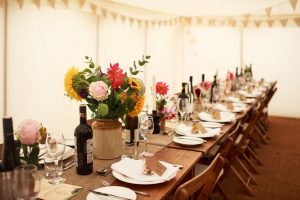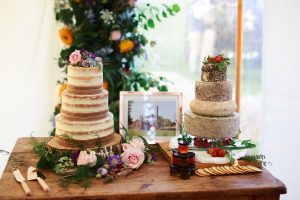 The couple ensured their many guests enjoyed a relaxed and happy day with lots of details. From personalised jelly sweet wedding favours, to platter style delicious catering for their sit down meal and, not just a wedding cake, but a savoury cheese cake too! There were hay bales and bunting, as well as blankets and fire-pits for the evening.
The food, supplied by Tayberry Food's near Canterbury, was all locally sourced and guests could help themselves without having to move from their seats. They had perfectly cooked roasted lamb served with vegetables, potatoes and salads, finished with traditional Eton Mess.
For the evening reception, Georgie and Jason chose their friend's band, The Fabulous Fug Band, who really got everyone up on the dancefloor – as well as playing a cover of Country Roads, a special request for the couple's first dance.  They had a DJ too, Andy, who kept everyone going until the early hours!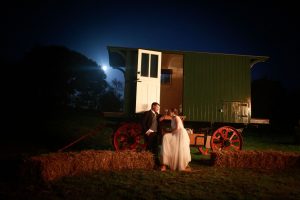 Here's what they said when I asked about their favourite parts of the day…
Georgie (this bride couldn't just pick one thing, but I narrowed it down to two):
"…Apart from marrying the love of my life…we snuck away during the evening and sat up on the hill – it was incredible watching with everything all lit up and the moon behind us, seeing our friends and family having a big old party, with the living van we had worked for months on and the engines below us gently simmering away.

The last dance – we all joined together as a group and sang Vera Lynn's We'll Meet Again – who knew how poignant that would become this year, when we haven't been able to see so many of our friends and family since COVID struck."
And from Jason (clearly a man of many words):
"Once the speeches were over(!), the Harvey's beer and the engines."
And here is some advice for future couples out there from Georgie and Jason:
You cannot predict the weather for a British wedding – the day before and after our wedding was glorious sunshine. The wedding day – 50mph winds and drizzle in August! Georgie looked a picture at 7am putting out straw bales in the wind whilst the marquee was being ratchet-strapped down! Luckily the weather cleared (mostly) once they had finished at the Church.
Keep your wedding personal – it's those little personal touches that differentiates your wedding from others. Although nothing could be a bigger differentiator from most than a 12 ton traction engine!
Enjoy yourselves, its true when they say the day goes so quickly. The best piece of advice we have (and used) was to slip away for 10 mins to just spend some time together as a couple, soak in the occasion of the day and watch our guests enjoy themselves.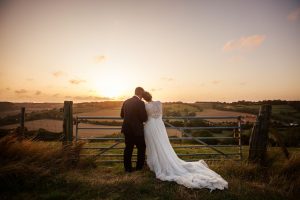 SUPPLIERS:
Dress: Catherine Francis Bridal, Arundel
Photographer: Samuel Box Photography
Suits: Marks and Spencer
Bridesmaid dresses: JJ's House
Musicians (e.g. pianist/harpist/band): The Fabulous Fug Band
Cake: Sprinkles Catering
Flowers: Maria Smith, The Lemon Hound
Catering: Tayberry Foods
Venue: Brides parents' farm
Church: St Anthony's Church, Alkham
DJ: Andy Stapleton
Stationery: Close friend