Is the thought of rain on your wedding day stressing you out, no matter how many people tell you it's a sign of luck? Or are you worried that it might just get a little too hot outside for your guests to enjoy themselves; and you don't want to sweat out in your wedding dress? Unfortunately, we live in the UK and our weather is notoriously unpredictable, whether you live in the Highlands of Scotland or down in sunny Cornwall it is simply a game of luck. As most weddings are now planned more than a year in advance, here are some tips on how to prepare for and cope with the weather on your wedding day:
Firstly, a huge factor in predicting the weather for your wedding is WHEN you choose to get married. If you're hoping for an outside ceremony, under a beautifully decorated pagoda and your guests seated on the lawns, you're more likely to be blessed with good weather if you choose a date between May and September. If, however, you would prefer a cooler wedding with less risk of sweating out in your wedding outfit or having frizzy hair, you're better off choosing anytime between mid-October and April.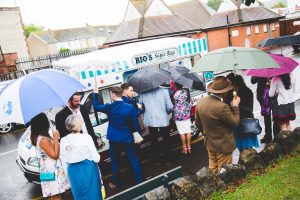 If you are leaning toward a sunny summer wedding and an outside ceremony, make sure when you start looking at venues that you love the inside areas as much as the outside areas. Consider everything; space, light, photos etc. Most venues will have wet weather plans, just ensure you ask the coordinator. The venue coordinator should also be able to answer any questions you may have in case it gets too hot and there's a risk of sunstroke (believe me, it can happen!). Alternatively, if you're set on a winter wedding, it might be worth asking the venue whether you can have any photos outside (imagine the photos if you have snow!).  If you've decided on a DIY wedding, make sure you have enough inside space to accommodate everyone in case of bad weather, and enough shade and water in case of a heatwave!
Another thing to consider surrounding your venue and weather is access. What are the logistics for getting yourself and your guests into the venue if it's wet and muddy (field venues / marquees / pagodas)? You need to know that your outfit isn't going to be filthy before you've even got to the end of the aisle, and your guests wont want to be hiking through mud from the car in stilettos!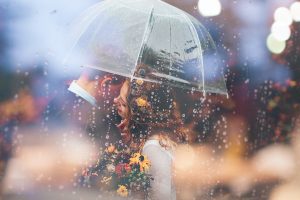 Suppliers sometimes have great ideas and advice for weather-related changes; don't forget they have probably come across every wedding-related problem there is, and how to resolve it. Not just venue staff, but photographers can be particularly resourceful with weather changes, make sure you speak with them before the big day about how weather could effect your photos and any planned shots on the day.  Ensure you speak to your florist too, there's no point having a beautiful outdoor flower arch costing £££'s if you're inside for the whole day, ask them how your dream flower arch can be adapted and used inside too.
When you're putting together your wedding budget, make sure you factor in weather-related contingencies, such as wellies, umbrellas, fans, bottled water…just in case you need to provide them for the both of you, or for your guests. It can all add up, so it's better to plan from the start.
Just remember, the weather is the ONLY thing that noone can control on the day; embrace it and don't let it get you down.