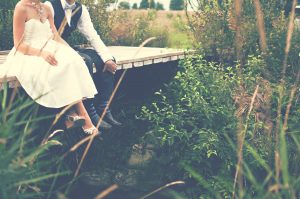 In light of Covid-19 and social distancing restrictions, weddings are now permitted (YAY!!), but limited to just 15 guests*; so would you consider a smaller wedding? Having put together weddings for just 2 guests up to 180 guests; I must say that there are benefits to having a smaller celebration!
Intimate
Having just your very closest family and friends with you on your wedding day makes the whole day more intimate. It means that you are saying your vows in front of those who you really care about and care about you; and those guests normally feel much more honoured to witness it. Not only do you have less people to welcome and chat to, but you can enjoy lots of quality time with the guests you have invited, and much more time with your new husband/wife!
Cost
Obviously, inviting less people will usually cost you a lot less than having 100+ people to feed and water all day! With larger weddings, not only do you have to cater for all your guests but there's more of everything…table decorations, wedding favours, flowers etc. Plus, with smaller weddings you can usually save on venue hire fees as well as opening up the possibility of completely different venues; who wouldn't be able to cater for larger wedding parties – such as windmill's (yes, that's possible!), pubs or even lighthouses.
Unique
As I've mentioned the possibility of different venues above, it leads nicely on to making your intimate wedding day unique. Not only could you choose a completely different venue to any other wedding you've been to, but you could also look into adding activities to your day – something that you wouldn't be able to even think about with larger groups. Depending on the type of couple you are; I've heard of some including windsurfing, archery, clay pigeon shooting or even paintballing as part of their day….having less wedding guests makes this so much more of a possibility!
You can keep some traditions
Just because you've chosen to have less guests doesn't mean you have to miss out on some of the best parts of a 'normal' wedding; you can still participate in much-loved wedding traditions (if you want to!). The bride can still be walked down the aisle by her father (provided you're from the same household, or in a bubble), you can still have a maid of honour and best man, still include a cake cutting and even throw in a single toast if you feel like it. Personally, I find that the traditions are even more special in front of less guests.
You can choose the day
Most established wedding venues wouldn't even consider hosting a small wedding on a weekend date in peak season; especially not for 2021 as they have already lost a lot of peak dates moving the 2020 weddings that couldn't go ahead as planned. The advantage of having a small wedding is that you can have it on a mid-week day, which would normally mean less venue charge, and less people asking for the next day off work! The problem with large weddings on mid-week dates is that a lot of people have to leave the reception early because of work the following day, or getting back home if they've travelled for the wedding. As you wouldn't be having a large reception, this wouldn't be such a worry for you.
Less stress
Intimate weddings usually bring much less stress for the couple than large weddings! No seating plan for 100 guests, no upsetting step-parents or grandparents with top table arrangements, no worries about chasing loads of RSVP's, no putting together an extensive photo list…Winner! In all of the intimate weddings I have put together or been a part of, the couple always seem to be so much more relaxed. From my perspective I guess it's because they get to enjoy everything they've planned and they get to enjoy it together.
All in all, there are so many pro's for having a small and intimate wedding. I had noticed (before the pandemic) that more and more couples are opting for small weddings, and I think it's great! At the end of the day, the most important thing is marrying the person you love and whether that's in front of no guests or 100 guests, it's entirely up to you.
*correct at the time of writing